Regular price
Sale price
$297 USD
Unit price
per
Sale
Sold out
The way to end picky eater battles and help your child have a healthy relationship with food for life! Includes a special add-on for kids 9-14+
There IS a way to overcome picky eating and enjoy meals together. And, it isn't a mystery, but it is more than a quick tip or trick. Mealtime Works is a complete plan. Everything you need from A to Z. for mealtimes that actually work!
In this class you'll learn through pre-recorded lessons that are available in both video and a downloadable text version, downloadable and printable slides that accompany each lesson,  and tons of extra worksheets, checklists, and handouts to make it really easy for you to put everything into practice in your own home. 
Plus, you have access every single day to a private fb group with a community of other parents with the same goals and challenges as you. 
In addition to the main course you'll receive the Big Kid Edition which is a series of 12 videos and handouts that accompany Mealtime Works, but are designed for tweens and teens ages 9-14+ to watch. 
30 Day Money Back Guarantee: I know the Mealtime Works plan works, but I want you to feel confident, so I welcome you to take 30 days to learn the strategies and begin to implement them. If, after those 30 days, you aren't seeing any results we will gladly give you a full refund.
View full details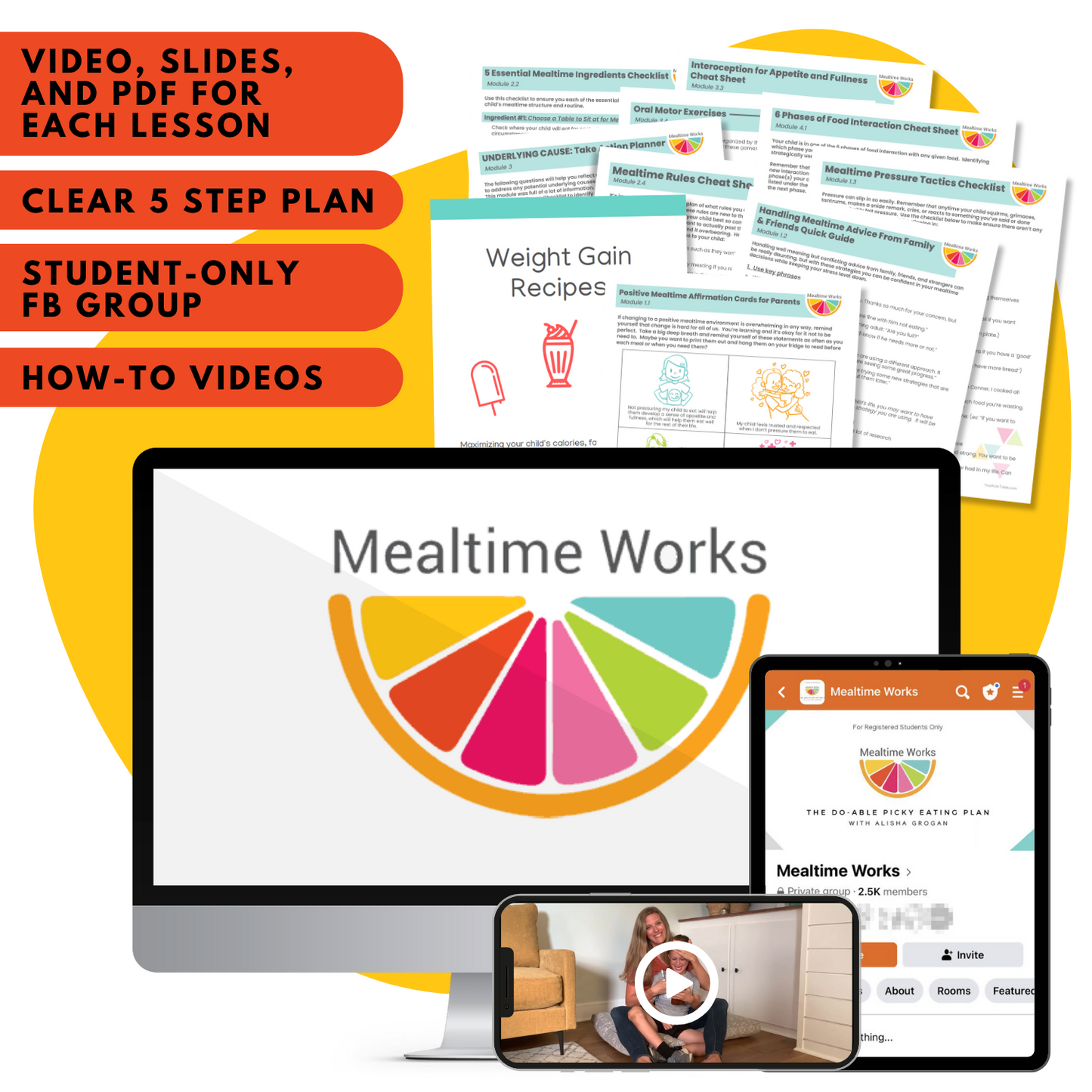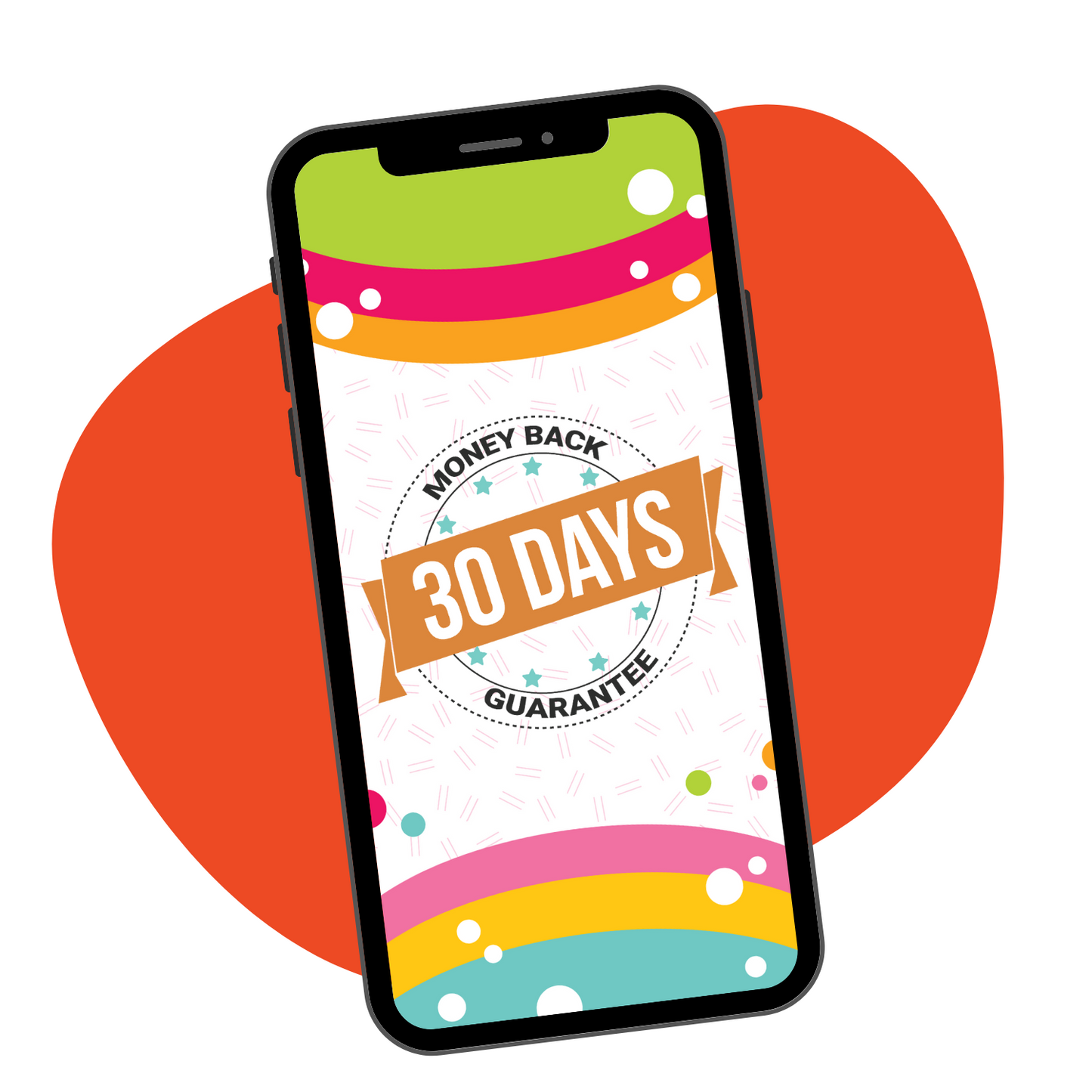 WHAT YOU'LL LEARN…
There are 5 modules, or units, that each have 4 lessons in them, most around 15 – 20 minutes in length. Every module matches one of five Mealtime Works steps, each building on the last: 
Module 1: Creating a positive environment, so your child feels safe and interested in eating
Module 2: Setting up a structured routine for meals so your child develops an appetite 
Module 3: Addressing the underlying cause so that you can get to the root of the problem
Module 4: Learn advanced feeding therapy strategies you can use in the home to get your kid eating new foods
Module 5: All the extra tips and tricks to help maximize all your efforts
WHAT YOU'LL RECEIVE...
20+ Lessons Via Text or Video with Printable Slides
20+ Downloadable Worksheets, Cheat Sheets, & Checklists
100% Online with Guaranteed 1 Year Access
Bonus Weight Gain Recipe Ebook
Hands-On Demonstration Videos
Students Only Access to Private Fb Group
Live Group Monthly Q/A Sessions with Alisha
Big Kid Edition with 13 you-tube style videos and special handouts  for tweens and teens
Frequently asked questions about this product?
How long will it take to see results?

While every child is unique and it is impossible to predict how long it will take to see significant results, I will tell you that the majority of families begin to see positive changes and progress within the first few weeks. The class is designed to be fully implemented in 4-6 weeks, but there is no rush, you can go at your own pace and comfort level because you have access to all of the course materials from the moment you join. It is important to remember that progress is anything new your child does with foods or at a meal. Initial results may be sitting at a table together for meals without distractions or touching a food for the first time. While I don't guarantee a certain amount of foods your child will eat, I do promise that you will at least drastically reduce mealtime stress and have a large variety of tools to help your child explore and eat new foods that work.
What if I don't see results?

While I think it is highly unlikely that you won't see any results if you've applied the strategies and followed my suggestions, I will give a full refund in 30 days if you aren't satisfied and can show me the work that you've done to put this plan into action in your home. Remember, you have direct access to me through the private fb group and live Q&A's if you feel you need specific attention. My goal has always been to create an effective thriving community of parents.
How long do I have access to the course materials and private fb group?

You will have access to all of the course materials through the class site, private fb group, and LIVE Q and A's for at least 1 year guaranteed, or until the program is closed. The transcripts, slides, and handouts are all downloadable and printable.
What ages is this course geared towards?

The main Mealtime Works course class is beneficial for children 1 year to 11 years old, however detailed strategies are shared for your kids 6 and under, as well as for children 7 years+. WIth the Big Kid Edition, strategies are taught and additional handouts are included for kids 9 to 14 years+.

Transitioning to table foods and baby food aren't covered specifically. Please see our Table Food School course if you have a baby or young toddler that hasn't learned to eat.
Can professionals join Mealtime Works, is there a certificate?

Absolutely! Professionals are most welcome and a course certificate is automatically generated upon completion of the class that includes the date and hours completed (10 hours are given for the class after review of all videos, quizzes and PDF's).

This course is appropriate for occupational therapists, speech and language pathologists, developmental therapists, physical therapists, teachers, social workers, psychologists, pediatrician's, and any other professional that works with children or families from ages 1-10 that experience picky eating.

This is an introductory course with no prerequisite required. This class Is AOTA approved for 10 hours (1 CEU), All lessons must be completed and quizzes must score 80% or higher to complete the course with a certificate.

Course Objectives for Professionals:

Identify what the parent and child's roles are during mealtimes
Identify the variety of different ways adults intentionally and unintentionally pressure kids to eat during mealtimes.
Identify the ways that an adult's previous experiences and own upbringing affect the way they feed their own child.
Identify ways to instruct families on how to create a positive eating environment in the home with specific tools and methodology outlined by the Division of Responsibility by Ellen Satter.
Identify how to create a routine and schedule for mealtimes.
Recognize when a child is not sitting in proper positioning for meals and identify ways to achieve best seating position for mealtimes.
Apply strategies for serving food in different ways to increase a child's variety of food during mealtimes.
Identify beneficial mealtime rules to support families during mealtimes.
Identify the underlying causes of picky eating and construct a plan for addressing needs and challenges that cause picky eating during mealtimes.
Recognize the variances of picky eating between children, and construct ways to apply strategies based on their needs during and prior to mealtimes.
Apply 3 primary strategies to increase the variety of foods a child eats at mealtimes.
Employ effective tools for helping children resistant to engaging in cooking activities.
Select specific strategies to simplify and maximize meal planning for children.
Recall a variety of tools and presentation styles that children resistant to trying new foods tend to respond to.
Apply sensory strategies when appropriate to help children tolerate sitting at the table for mealtimes.
This is a digital product. Nothing physical will ship.